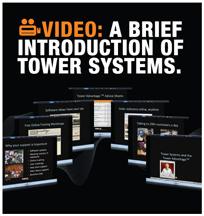 I have recorded a new version of my introductory video for retailers looking for a Point of Sale system.  This video is now available live at our website by clicking the button (see left) on the home page.
Our goal with this and other non training videos we will produce is to bring Tower Systems more to life on our website as this is how retailers are buying software.
While not broadcast quality production, the content foucses on the Tower AdvantageTM and how this benefits our customers.