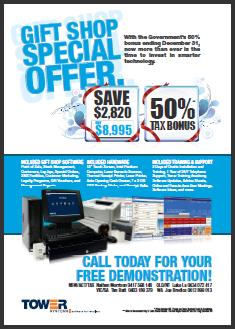 We have released a special gift shop software and hardware offer for gift shops in the lead up to Christmas and the imminent end of the Federal Government's 50% tax break opportunity.
This offer is based on our well-established gift shop software solution and delivers a host of facilities gift shop owners love including marketing tools, lay-by, point of sale, theft management, customer orders, hamper management and sales, catalogues, discount profiles, supplier stock file connections, stock control and business management.
The offer coincides with the release of updated software for gift shops – delivering new facilities to extend benefits.