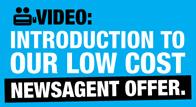 Tower Systems is proud to release a low cost computer software, hardware, training and support package offer for newsagents.  This package includes POS software, a brand name computer, LCD screen, cash drawer, barcode scanner, laser printer, thermal receipt printer, on site installation, training, updates for a year and support for a year.  There are options for upgrading this base package to include options suitable to local business needs and to reach full newsagent supplier compliance.
I have put together a brief video introducing the offer and explaining what a newsagent can expect from the $4,995 (inc GST) investment.  Click here to see the video.
There are close to 800 newsagents without a computer system.  This holds back the channel from network wide automation of key functions.  We, along with key newsagent product suppliers, want to help these disconnected newsagents to connect and add value to the channel.
As the largest newsagent software supplier we well placed put this offer and back it with the appropriate service. The basic package allows newsagents to start with a low capital investment and build the system as their comfort with technology grows.