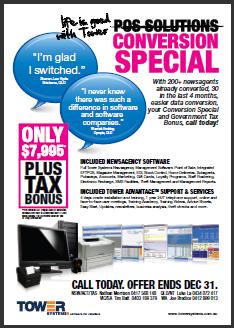 We have made it easier for remaining POS Solutions newsagents to upgrade to Tower Systems with an offer sent out this week.
For the all-inclusive price of $7,995 (inc GST), we offer to provide the full suite of replacement Tower Systems software (point of sale, magazine management, stock control, home deliveries and distribution management, marketing tools, loyalty, gift cards, putaways, theft management, SMS facilities, integrated phonecards … and tons more), on site installation, on site training, support coverage for a year, software updates for a year, conversion assistance and guidance on the conversion journey.
With well over 200 newsagents having made this move, we are well prepared to help more.
A couple of newsagents have asked us why we target POS Solutions in our advertising.  Besides their vulnerability, they have plenty of newsagents using old technology who need to change their software regardless.  We know that we appeal to many of their customers because of the number who have shifted already.
Consolidation is happening in the newsagency channel on a number of fronts, including software.  Our customer base positions us well to grow.  As moves documented on this blog and our company website show, we are not becoming complacent as we grow.  We are newsagents ourselves and as such are committed to the channel for the long term.