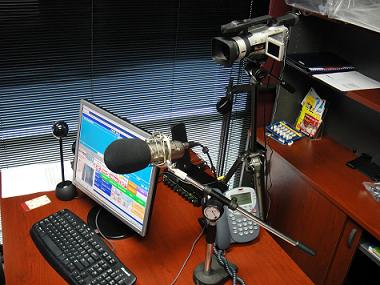 This is a photo from inside what we are now calling our studio, a room full time dedicated to producing our training videos, hosting online training workshops, hosting supplier workshops, hosting live online sales demonstrations of our software and filimg other presentations.
Equipped with two cameras (one broadcast quality), two broadcast quality microphones, a studio quality mixer, a PC with some cool software and some other bits of technology.
We are adding soundproofing and some other elements to further improve the quality of our output.
The setup of our own professional quality studio is key to enabling us to get quality content out for our customers on a rapid turnaround as we have demonstrated in recent weeks.
Too often, computer training is delivered to the business owner or manager when it is other employees  who need vital knowledge.  Our training videos mean that any team members can learn information critical to their business. This means that their business benefits and we benefit.
We have developed a range of topics for which we are preparing content at the moment.  The resulting videos and others we will create for more immediate needs will demonstrate the Tower AdvantageTM in action for our customers.