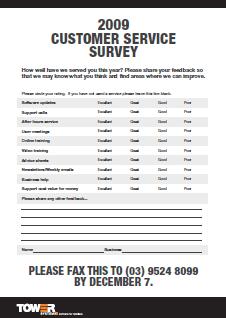 We have mailed and emailed our 2009 customer survey to users of our Point of Sale software.  Click here for a copy.  We want to get this survey form to as many of our customers as possible – the greater the response the more we have to work with.
As the form shows, we are looking for a rating of each of the key customer touch points we offer.   Honest appraisal of these will allow us to compare our internal assessment with real customer feedback.
The free form area on the survey offers an opportunity for open feedback on any customer service topic.  This is an important as the more structured part of the form.
Past customer surveys we have conducted have significantly influenced our business for the better – for us and our customers.