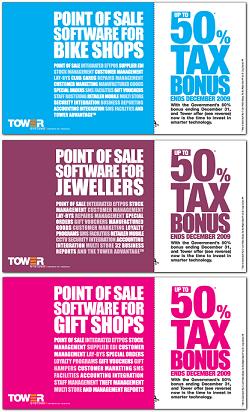 We have mailed our final promotion in the countdown to the end of the federal government's 50% tax bonus opportunity for small businesses.
The glossy postcards target bike shops, jewellers and gift shops with our software for each.  We have sent separate marketing collateral to newsagents with the offer.
On the back of each postcard is a photo of hardware items included as well as a list of software, training and other services included in the offer.
Postcards are an efficient marketing medium, the strike rate is good for us.  Sales prospects like they because they don't need to open an envelope.
Like all of our marketing collateral, this latest campaign was developed in-house in our marketing department.
The tax bonus has been useful but could have been better had software been an allowable expense.