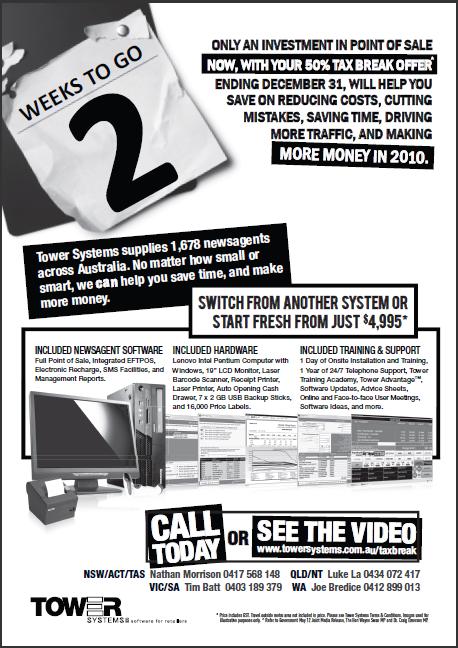 Newsagents have two weeks to access the 50% tax break by purchasing new computer hardware.  This is a terrific opportunity to improve business performance for a lower real cost.
The 50% tax break opportunity applies to small businesses turning over $2 million a year or less.  Most newsagents will qualify for this.
We can help achieve access to the Tax Break with compliant invoicing.
We have put together a new  flyer promoting our offer.  The flyer also promotes the online video we have created which promotes the Newsagent Tax Break offer.  Included in the Tax Break offer is an offer facilitating switching newsagents from other systems to ours – this is a considerable source of new customers for us at the moment.
We currently serve in excess of 1,600 newsagents in Australia.  Outside of magazine distributor and newspaper publishers, this is the largest single grouping of newsagents.  We respect this by taking opportunities to reinvest in the channel – like our recent Christmas posters.