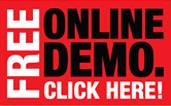 The free Point of Sale software online demo service we offer is proving to be a popular way for retailers to see our software and assess its usefulness for their business. Using WebEx online conferencing software, we host a live demonstration for as many people as is appropriate.
It is not uncommon for us to demonstrate to the owners, their accountant and maybe a couple of others – sometimes all in different locations.  Web Ex makes this easy to arrange and manage with everyone able to participate as if they were in the same room together.
Our online demo service also demonstrates our online training facilities and how we are able to provide personal service to remote located clients.
It's the Tower Advantage TM in play and we like that. Our online demos show off our points of difference and usually result in sales.
Booking an online demo of the Tower Systems POS software is easy, click on the button on our homepage, enter your details and we contact you to make arrangements.