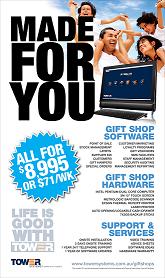 We are in the final days of preparation for the Reed Gift Fair in Melbourne this coming weekend. We're on stand 3430 at the Melbourne Convention Centre.
In addition to readying a new release of our Gift Shop Point of Sale software, we have developed new marketing collateral for the trade show. This pitches the value of our offer and our focus on the gift shop marketplace.
The new marketing collateral also recognises that the trade show will be attended by newsagents and jewellers – other important marketplaces for us.
This is what we love about the gift fairs, the diversity in retailers attending.  It is an efficient marketing opportunity for us.
It is a challenge to create visually compelling collateral which promotes software and fits with the visual dynamic of a trade show floor full of terrific product. Software can look dry and unappealing.
In our marketing collateral we are connecting our software with the joy of saving time, making more money and building a stronger business – under the banner of MADE FOR YOU.