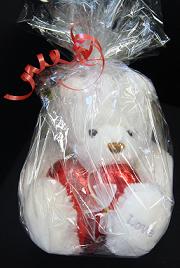 Our POS software helps smart retailers make excellent money from key gift giving seasons like Mother's Day, Father's Day, Christmas and Valentine's Day which is just around the corner. Hampers are a great way to drive premium business for the seasons and smart retailers are well placed to achieve good business from them.
Besides the good business results, hampers can be excellent centrepieces for a seasonal visual merchandising display.
From simple 'hampers' like the one shown in the photo, to full-op hampers with fifteen or more items, our software tracks it all from the individual item up.
Using our manufactured goods facilities, our retails are able to make up hampers, gift packs, by bringing together single items they have in the business.
Hampers can be sold under a barcode specific to the each yet sales are accurately recorded for each item which makes up the pack as well as for the whome hamper.
If the store runs out of single items, the packs can easily be broken down, using our POS software, back to individual items.
We own six retail businesses ourselves and are using these facilities regularly.