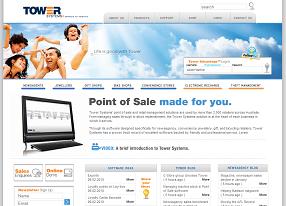 We quietly launched our new corporate website yesterday.  This is a complete replacement for our previous website which was two years old.
The new website offers all of the old facilities along with some new features.  Visually, it connects with our new look 2010 marketing collateral and our new look software.
The development of the new website started mid way through last year and involved various parts of the company from marketing to support to development.  We took time to consult widely internally before settling on a design and functional specification.
We also took time with this project because of the role the website plays in our business as an entry point for customer contact as well as a place where prospective customers can meet us and find out about what we do.  It was important that we delivered a website which truly represents Tower Systems on all levels.
Given the e-commerce connection from within the website, we had to get accounting and banking approval before we could go live.  The banking  approval was obtained overnight Wednesday.
We have further innovation planned for the website but as we did with the launch this morning, we will talk about that once it is delivered.
Our website is an important tool in delivering customer service as well as attracting and winning new customers.  The new website enhances our abilities in each of these areas.  We'd be glad to get your feedback.