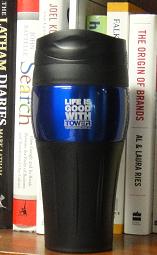 We had a batch of premium water bottles labelled with our brand for use as a gift at trade shows and conferences.  They have been a real hit with sales prospects, customers and suppliers.
We have used the water bottles to promote our tag-line message of LIFE IS GOOD WITH TOWER SYSTEMS.
We went with water bottles because we wanted a gift which is valuable and genuinely useful.  Since many of our customers are on the go, a quality hot and cold spill proof drink container made sense.  They have been so popular that we have received requests for more.
We have used pens, pads, mouse mats, stress balls, cakes, chocolates and folders as promotional message vessels in the past.
This water bottle is the best on all fronts in my view and based on the reaction from happy recipients.