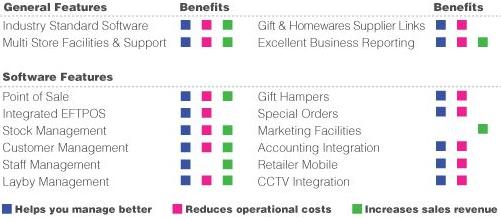 We have further enhanced our website with more useful landing pages for our software packages for newsagents, jewellers, bike retailers, gift shops and homewares retailers. The latest enhancements, released with a modified Tower Systems website yesterday, visually document the benefits delivered through the latest version our software.
We have colour coded each of the key benefits listed into three areas: Helps you manage better, Reduced operational costs; Increases sales revenue.  These are different for marketplace in which we operate.
With more and more retailers selecting software based on company websites, we are proud of the representation of our products on our website. Retailers considering our software can watch videos, download up to date marketing collateral, research the capabilities of our software and book face to face and online demonstrations.
As yesterday's release shows, we continue to evolve our web based offer – reflecting how we continue to evolve the POS software at the core of our offer.