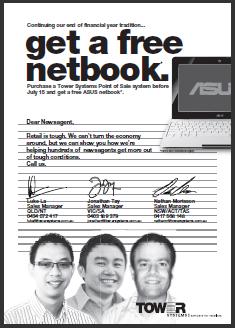 Newsagents are responding well to our end of financial year offer of a free netbook computer with newsagency system purchases.  The offer has been communicated by mail and fax and is resulting in interest from newsagents without a system as well as some with a system and keen to move.
Every year at this time we have an end of financial year offer.  This year's offer has hit a chord with newsagents looking for honest value from their technology purchase.  The Tower Systems added value of business support beyond the software itself is a genuine point of difference. We help newsagents switch from POS Solutions and Computerlink with conversion packages including transition help.
We have included photos of three of our sales team on the brochure to demonstrate the depth of our team.  Newsagents like to know who they are buying from and that they can speak with these people long after the system is purchased.