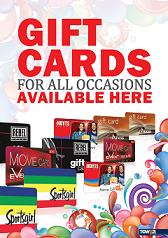 We are waiting on final approval before we release the two posters we have developed exclusively for our retailer partners selling the Blackhawk gift card range.
We are proud to show off our innovation and the type of business-building help we provide our retail partners beyond the Point of Sale techology itself.
We developed two quite different posters to provide our retailers with a choice.
Once we have Blackhawk approval the artwork will be made available to our customers.