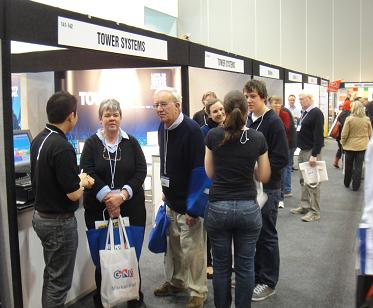 Newsagents attending the GNS Market Fair in Melbourne this weekend got to compare three software companies. They could compare software, customer service, business strategy and ethics for all were on show at the annual newsagent trade show in Melbourne.
Our stand was busy for much of the two days as the photo from this afternoon shows.
While it was wonderful catching up with so many of our customers, the real fun of the fair was the stories we heard from a competitor. It was as if they did not think that newsagents would walk to our stand and compare with what they had been told.
Being able to show our software doing something which they had been told we did not do or to show they were wrong with another claim worked well in winning business for us. They shot themselves in the foot, throughout the fair. Once time we shot them down while they were stalking our stand. Seriously!
Tower Systems serves close to three times more newsagents than our nearest competitor. Based on sales in June and July, the gap is widening. The best way to compete with us is by delivering better software backed by better service.  There is a huge difference in systems offered to newsagents.
We thank GNS for putting on an excellent trade show and look forward to next weekend in Sydney.