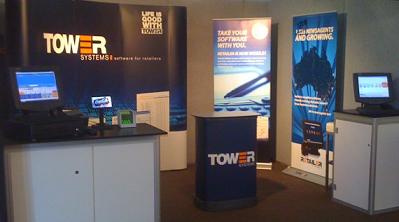 We are all set for the GNS Market Fair in Sydney this weekend.  Our stand (see photo from yesterday afternoon) is setup with our latest software, some exciting new hardware and a few surprises to exsite NSW/ACT newsagents and stationers who visit the show.
With over 700 newsagent customers in NSW/ACT and more than 100 added last year, this is an important trade show for us in connecting with our customer base as well as helping the remaining newsagents here to come and join our user community.
We have a terrific presence at the Market Fair thanks to the best IT people serving newsagents in NSW/ACT working on our team.  We will have sales and technical support people on our stand to provide the best possible customer experience.