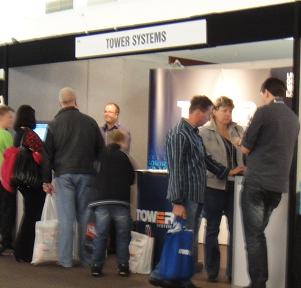 The photo shows how it was for a fair chunk of the first day of the GNS Market Fair in Sydney yesterday.  With more than 700 newsagents using Tower Systems software in NSW/ACT we were plenty busy catching up with existing customers.  We love our costomers, they are a cheerful bunch as anyone spending time on our stand yesterday discovered!
Our new and exclusive customer display, iPads, new software generated terrific interest. We also had time to talk with newsagents keep to switch to our software.  We are happy to help out on this front and have an excellent number of reference sites who have already made the move.
The people of GNS have done an excellent job making good use of the Rosehill venue and creating a vibrant show packed with opportunities.