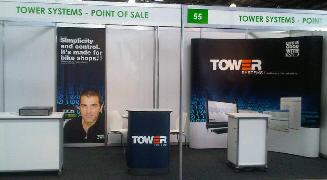 This is our stand at the Ausbike Trade Show, on this weekend in Melbourne.  We are are just about all setup and ready to go -we only have to load the stand with our technology, brochures and people.
Like many retail channel trade shows now, we expect to see more than pure bike retailers at the show.  There was a time when a channel specific trade show would attract retailers only from that channel.  Now you see all sorts visit as retailers are expanding beyond the traditional product range for their shingle.  We like this because it suits the diversity of pur software offer.
Our software for bike shops is the most widely used specialist bike shop software in Australia.