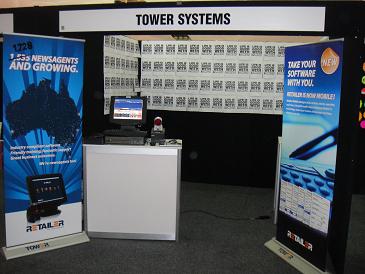 We have been busy at the GNS Market Fair in Perth today. The stand has has had a constant stream of sales prospects and existing newsagent customers.  Western  Australia is a good and growing marketplace for us.
We put on a good display with three people staffing the stand – to ensure that the loved Tower Systems customer service can be experienced by everyone stopping by.
Our installation team will be busy based on the business we have seen today – and the fair still has three hours to go.
Congratulations to GNS for putting on a good day … thanks especially for the regular flow of food and drink!
PS. Don't be put off by the photo, it was taken at 8:45am before the fair opened.