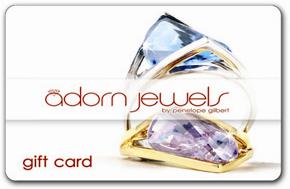 Adorn Jewels have taken the opportunity of our in-house gift card design service, producing beautiful gift cards which can be used with our jeweller software for sale to customers.  Each gift card has a unique barcode which ties back to the customer account to which the value of the gift card is easily loaded using the software.
We realised early on after developing our gift card / gift voucher facilities that we needed to offer our customers an easier way of leveraging this beyond the software.  Our in-house gift card design and packaging service has achieved this with many Tower Systems customers taking up the service.
We back our card design service up with a Chins based printing service.  This results in high quality cards at a low price.
We also provide training an support on implementing gift cards into the business.  We are lucky to have been exposed to gift cards across a number of retail channels, providing useful broad experience from which we can draw when asked for advice.