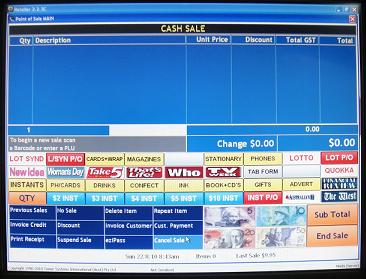 Our software for newsagents can be easily configured to suit the needs of many businesses and situations.  One area where adjustment is easy is with the touchsreen layout.  The photo shows a touchscreen layout for newsagents in Western Australia.  It includes local products which you would not see elsewhere.
The screen was designed for a particular newsagent who wanted more products on the touchscreen that we would usually provide.  Our preference is for bigger buttons.  In this situation they wanted smaller buttons and more products to serve their particular need.  Our software easily handled their requirement without the need for a change or a visit.  They could also include product logos to make identifying products easier.
Flexibility in software configuration is important to newsagents and all retailers.  We are proud of the flexibility we have built into the software and that our customers do use this.
Changing a touch button can be done quickly at the store level without risk.  Likewise, securing buttons so that they cannot be changed is also easy.