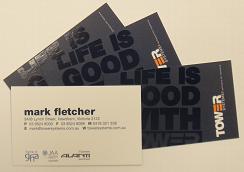 Following from the branding of our new Head Office, we have started refreshing other collateral.  First stop was our business cards.
Our in-house designer created completely new artwork – for both sides of the business cards – based around the LIFE IS GOOD WITH TOWER tag have been using this year on a range of collateral.
We obsessed about the quality of the cards in terms of the card stock, the ink colours and the treatments used to reinforce the message.  These cards reflect the attention to detail of the company and our commitment to quality products and services.
A feature of the new cards is that we have eliminated titles.  This reflects our belief that the person is more important that any title they may be given.