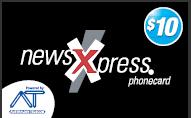 Newsagents, convenience store owners and others are using the smart serial number tracking tools in our Point of Sale software to track the sales of physical phone cards. This facility, originally developed for retailers who sell products with unique serial numbers, enables retailers to track phone card sales for later reconciliation against accounts issued by the phone card provider.
These facilities also help the business combat employee theft.
This is another example of how the needs of one retail channel can fit in with the needs of another retail channel.
Our Point of Sale software has many facilities like this which deliver a valuable depth to the software beyond what one expects to see in Point of Sale software.
We have retailers using the serial number tracking tools to track access codes and other numbers which may be unique to a product purchased as well as to track the sale of physical phone cards and the sale of products with serial numbers.