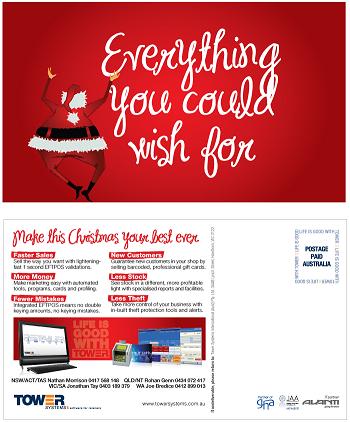 We have mailed out a beautiful benefits-focused postcard to retailers not using our Point of Sale software this week.
The postcard promotes how using our Point of Sale software can help retailers increase sales, reduce operating costs, cut mistakes and make better business decisions.
Christmas is an ideal time for retailers to consider Point of Sale software as it is at this peak time that good software truly shines in in terms of how it serves the business.
In an on site demonstration, we show where we help businesses improve and strengthen their operations.
The postcard also showcases our professional approach to business, as is also reflected in our software and customer service.
The real benefits of good Point of Sale software are unlocked by easy access to professional support, training and documentation. We cover these needs through our Help Desk, live online training workshops, online training videos, advice sheets and face to face user meetings.