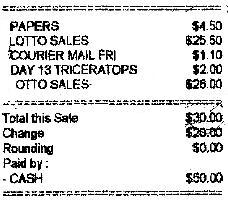 We are called upon from time to time to help retailers resolve problems with software not developed or supplied by us.
This happened recently when some POS software was pumping out receipts which plain did not add up.  There was no explanation for this, not on any of the receipts we were given.  The POS software company were no help and in the meantime customer complaints were adding up in the retail store.
It was one thing for the POS software to have a bug and another entirely for the software company to refuse to engage and help the retailer produce accurate receipts.
Retailers need to research thoroughly to ensure that the after sales service promised by the sales person is honoured every time it is needed.  All software programs have bugs. The challenge is how the software company responds to these.
We will gladly take a call from any retailer experiencing challenges with their POS software.  If we can help, we certainly will.