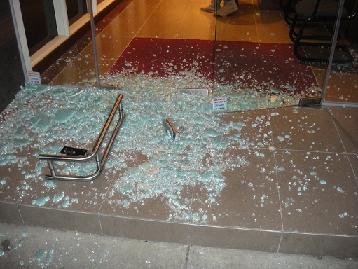 The final hours of the weekend were shattered last night when we received a call from our security monitoring firm of a break in at our Hawthorn Head Office.
When we arrived on scene we were greeted with a smashed front door and an office which had clearly been burgled.
The police have gone over the scene and will be on-site eearly this morning to collect physical evidence.
It will take us the best part of today to complete an inventory of equipment and business files to determine exactly what has been taken. In the meantime we have made arrangements to ensure that our Help Desk is operating not affected by this disruption to our business.
Besides the obvious damage and theft, there is the considerable time cost of dealing with the police, our security firm, insurance and others as we get this sorted out.  The smashed door was especially made and will take two weeks to be replaced.  This means that our main entrance will look less than ideal through this time.