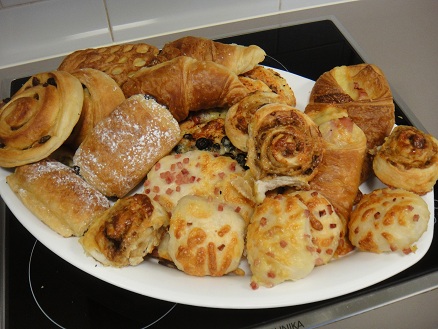 We have provided breakfast for our Head Office team on Friday mornings for more than ten years.  This is a tradition we happily continue today.  By 6:30am each Friday, we have a tray stacked high with delicious savory and sweet delights from our friends at Brumbys.
This Friday morning breakfast treat is in addition to an excellent pantry filled with biscuits, candy, a range of teas, Moccona coffee as well as our freshly ground espresso coffee service.
Providing these and other treats (such as occasional lunches and drinks) is good for the workplace and team building.  It's good for the company too in that we enjoy being different to your average software company.  We hear stories of workplaces where employees have to chip in to pay for tea and coffee. We are proud of the difference we offer in our workplace.
The photo shows yesterday's breakfast tray mid morning.