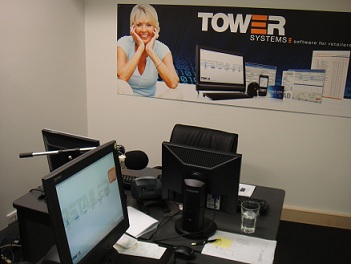 We are experiencing a considerable increase in remote demonstrations of our Point of Sale software.
Our studio (pictured) is being used more and more to demonstrate our software to retailers right around Australia and even overseas.
Thanks to a professional studio and our team, we are able to deliver a demonstration of our Point of Sale software of equal depth and personal focus as if we were inside the business of our sales prospect.
While our preference always is to deliver a personal face to face on-site demonstration, sometimes this is impractical or not required by the sales prospect.  For example, we have been able to use our online live demonstration facility when there is an urgent need, saving a few days and focusing this time instead on installing the ordered system sooner.
Through our Web Ex online conferencing services we are able to bring in up to fifteen people to a live online demonstration.  As with any demonstration, they are in control, guiding us with their questions and business requirements.
Another benefit of online demonstrations is that we are able to have multiple from our side more easily involved.  This is especially useful for more complex prospective sales situations.  bringing in an expert from our software development team can bring immediate and beneficial clarity to a situation.  It helps us win more business.
Of course, we follow up any online demonstration as we do all of our demonstrations – with a formal professionally prepared proposal which documents the Tower Advantage TM and exactly what we offer through a partnership with our company.
Experience over the last three months suggests that we will be doing more online demonstrations in 2011 than we did in 2010.  We are well equipped for this and look forward to embracing the opportunity to show the Tower Systems difference in action.