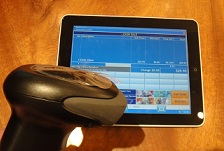 We have been playing with our in-house iPads, our Point of Sale software and scanners to see how useful the iPad could be for our retail customers in-store.  Plenty of our customers are using the iPad to connect with their business from home, warehouses and while on vacation.  It is the use in-store during busy trading periods where the iPad could help a retail business deal with peak customer load – away from the sales counter.
The photo shows one our iPads and a scanner we were testing in our boardroom.
While there are some technical challenges to overcome, such as Apple's lock down of the iPad, we are working toward having a properly functioning Point of sale facility available through the iPad.  By properly functioning, we mean something which meets our quality assurance and performance standards. It is one thing to have something working and another entirely for it to meet reasonable performance criteria.
We will keep our customers posted on progress before we make an announcement here.
We already have customers using the iPad in other ways with success.