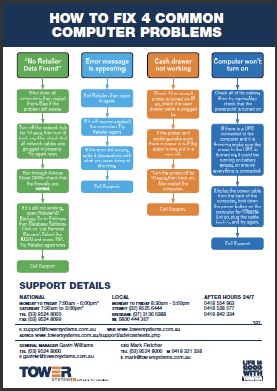 We have refreshed an advice sheet for retailers using our Point of Sale software which covers four common calls to our Help Desk.  The refresh has been done as part of our regular advice sheet review, ensuring that content is accurate and easily followed.
This advice sheet, if universally followed, can eliminate the need to call for for u to 10% of call traffic.
We have sent the advice sheet to all of our customers with our February newsletter as well as updating what we have stored on our website.
We have also taken the opportunity to include on this popular advice sheet all of our contact numbers including our new New Zealand TOLL FREE support number.
This is a Tower Advantage TM service.