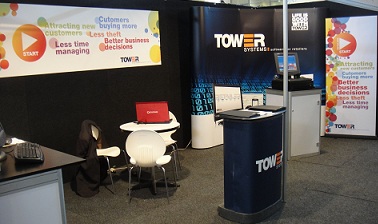 If our first day, yesterday, at the huge Home & Giving Fair in Sydney yesterday was an indicator then we are in for a terrific four days.
We had a constant stream of guests stopping by, existing customers and new sales prospects. It was a terrific day!
Gift shop owners, homewares business owners, jewellers and newsagents stopped by.  A wonderful mix from the various retail channels in which we serve.  The attendee mix is a testament to the diverse retail customer base which we serve as a Point of Sale software company.
Some existing customers took the opportunity to take up our offer of free training while on a different part of the stand we were able to provide in-depth demonstrations of our software, providing context for the benefits available to retailers at trade shows like this through our inventory management and other facilities.
The business outlook of those we spoke with yesterday is positive.  Sales are strong, especially among those who are pursuing a real point of difference for their business.  Optimistic is the best word to describe the attitude of many we spoke with.  Their optimism is reflected in the orders they are placing and the business plans they are discussing.
Trade shows like the Home & Giving Fair are an excellent opportunity for us to show off.  Our new software and new marketing collateral are a feature of our stand.  We also have proactive and optimistic people representing Tower Systems – reflecting our overall business attitude.
From a competitive sense, the Home & Giving Fair shows how Tower Systems is situated compared to others.  We are making the most of the opportunity.  Competitors who should be here are not.