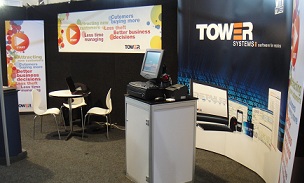 Our second day at the Home & Giving Fair in Sydney yesterday was even busier than the first.  We received some excellent new sales leads as well as valuable time with existing customers.
Yesterday was also like Saturday in the positive outlook of attendees.  No doom and gloom anywhere, optimism abounded on the floor of the busy trade show.
The other benefit of participating in such a large and diverse trade show as the Home & Giving Fair is the time we get to spend with gift and homewares suppliers.  Given the work we are doing in the EDI area, improving the data connection between retailers and suppliers, we are able to use the trade show time to good advantage.
As a partner of the GHA, we are well positioned to with with all stakeholders in the gift and homewares channels as technology plays an even more important role in business efficiency and growth through 2011.
What a terrific start to the year!