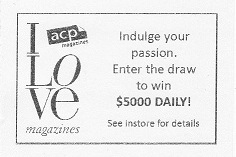 Tower Systems is helping its 1,700+ newsagent customers actively support the I Love Magazines consumer campaign by ACP Magazines.  We created a coupon promoting the campaign, using the ACP developed campaign collateral and made this available to our customers for delivery on shopper receipts.  Our newsagency software can automatically serve the inclusion of coupons on receipts based on user selected criteria.
Using shopper receipts to deliver a promotion for the I Love Magazines campaign is important since the receipts are part of the process of entering the competition to win cash prizes.
The coupon we have provided will help drive sales and better connect our newsagent customers with the I Love Magazines campaign.
Once again, Tower Systems is showing why its is the leading software supplier to newsagents, serving around three times the number of newsagents served by any other newsagency software company.