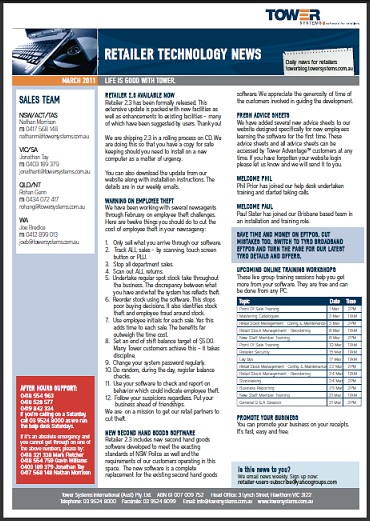 We have mailed our March 2011 newsletter to all of our Point of Sale software customers supplementing our weekly email newsletters.
The print copy of the newsletter contains additional content and seeks to help our customers engage in: free online training, accessing up to date advice sheets, running the latest version of our software and making the most of marketing opportunities such as promotional coupons on customer receipts.
Our consistency around customer communication, like this print newsletter, demonstrates our overall approach to customer service.  We understand that retailers appreciate consistency in delivery support for their computer systems.
The newsletter, while a small part of our overall service, is evidence that we take every opportunity to communicate with our customers to help them access an enjoyable and valuable experience with our software.
The newsletter is also designed to be passed around in the business, so that everyone using our software can benefit from the knowledge shared.