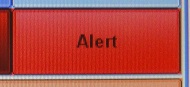 Retailers using our Point of Sale software have at their disposal a button on the Point of Sale screen which can raise an alarm in the event of a concern or an incident inn store.  Our users can control the function of the button.  The most common use is for a pre-coded email to be sent to a priority email address with an external security firm, alerting them to the incident.  Another use of the alert button is for the software to send an urgent SMS text message to a designated mobile phone number when the button is pressed.
With our software being used in some high end businesses, having access to such an alert button can provide front of house staff with peace of mind.
We have a retailer who relies on this button for sales staff to alert the manager who works from an offer at the rear of the business.  On receiving the text message, the manager feigns an excuse to enter the showroom and ensure that the business and its employees are not at risk.
While we have had the alert button for many years, its use is becoming more prevalent today as retailers are more concerned about security these days.
The label for the button itself can be changed at the store level, just as the actions taken by the pressing of the button.