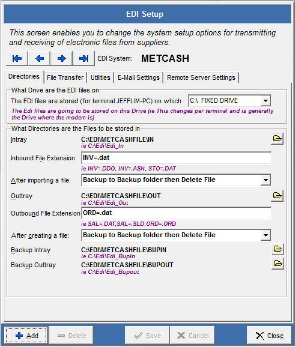 The link in our Convenience Store Software to enable the processing of electronic invoices from grocery wholesaler Metcash is all about saving and and improving accuracy of business data.
Developed to meet the specific standards established by Metcash, the link to support Metcash files in our software is available from within our Convenience Store Software for no additional or premium cost.
Tower Systems does not charge extra to any user to access electronic invoices or transact electronically in any way with any supplier.  Our position in relation to this provides us with a competitive advantage.  We take this position believing that it is unfair to charge customers for such a fundamental function in their Point of Sale software.
In addition to using traditional Point of Sale facilities plus saving time with Metcash invoices and improving stock data, Convenience Store owners and managers are using our software to:
Manage floorspace allocation.
Compare supplier performance.
Undertake trading period comparisons.
Track and manage key KPIs of ROI, Stock Turn, Return on Floor Space and Return of Shelf Space.
Track, manage and reduce employee theft.
Track, manage and reduce customer theft.
And a raft of other facilities.
The latest version of our Convenience Store software was released three weeks ago and is now available for in-store use.