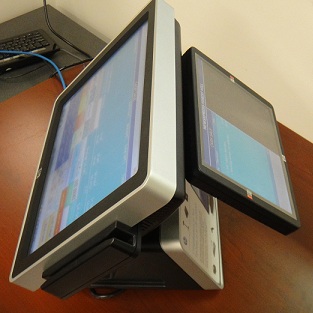 After considerable research and thorough in-house testing, Tower Systems is pleased to announce the availability of the HP Touch Terminal POS hardware unit for use with our Point of Sale software.
This compact, all-in-one POS terminal offers flexibility and style with the reliability and performance you expect to receive from a product with the HP brand.
Ruggedised for tough retail conditions, yet stylish enough for the most high-end of retail settings, this HP all-in-one point of sale is an ideal sales counter tool.  We will be showing the HP device at trade shows starting later this month.
While we remain a software company first and foremost, we ensure that we are up with the latest hardware opportunities and make them available to customers who which to purchase a hardware and software package through us.
Don't be put off by the photo – we wanted to show off the touchscreen and customer display in the one shot.  The computer is just below the touch screen.