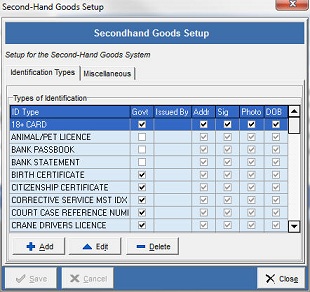 In developing our new Second-hand Goods Software, we ensured that we delivered flexibility to meet the tracking, reporting and other business requirements of our existing customers trading in second-hand goods and those we would like to welcome to our customer community.  We also ensured that we met the legal reporting and tracking requirements for dealing in second-hand goods.
The result is software for the professional second-hand goods business, regardless of whether they operate solely in this space or whether second-hand goods are just part of their portfolio of products and services on offer.
Our software enables the retailer to tailor the software to suit their specific needs.  This is done through easy to follow setup processes.  We offer training as well as post installation support on this.
The latest release of our software delivers enhancements in this growing area of second-hand goods – thanks to helpful feedback from retailers operating in this space.   Their feedback has resulted in software enhancements and business understanding which are now helping some of our existing Point of Sale software customers to consider making the move into this retail niche.