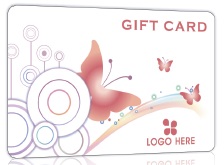 We have enhanced our personalised gift card offer for retailers using our Point of Sale software by now including gift card holders, key tag cards and protected finishes to the range.  This is in additional to personalised bar codes, signature panels and other features available through our gift card offer.
The new features are covered on the new gift card order form available from our website or through the company.
Through our marketing department we offer a custom gift card offer as well as access to a range of off-the-shelf creative designs which can incorporate business names and logos.  The example here shows where a business logo can be included in our off-the-shelf card artwork.
The flexibility in the Tower Systems gift card range enables our customers to spend according to their particular needs and budget.