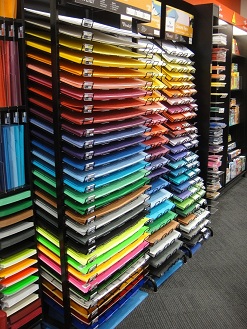 For Newsagents, Art Supply, Stationery and some other retailers in our user community, coloured card is an excellent point of difference product.
For many, carrying the range is a core product of the business, driving traffic and generating good margin.  the key is to get the product mix right.  This comes back to good inventory control processes.
Using our Point of Sale software, retailers are able to easily track sales right down to the colour sold.  While this can be done by bar-coding each sheet, we recommend using a touch screen menu.  With a few simple selections, the sales person can record the size and colour sold and maintain the integrity of inventory data.  This also means that the card itself is not damaged with a barcode label with an adhesive backing.
While there are other approaches, such as using a product swatch at the counter, we have found the approach of using the touch screen works the best as it is consistently available at each point of sale without interrupting the flow of the sale process.
The approach we suggest for handling coloured card is useful for so many other products in many different retail situations.    Our advice and assistance in this and related areas goes beyond how to use our Point of Sale software. It shows how to efficiently integrate the facilities of the software into the business to capture valuable business data, better serve customers and ensure that the business can make better quality business decisions.