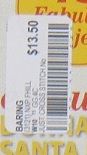 Putaway orders for magazines are vital to Australian newsagents.  Using our newsagency software, newsagents are able to easily track these regular orders for customers.  Using our software, newsagents easily and instantly can know who is yet to pick up what titles at any point in time.  This enables newsagents to better manage putaway magazine inventory and make at the sales counter decisions which can help improve the valuable magazine putaway business.
Labels produced by our software facilitate accurate filing of putaway magazines.  They also demonstrate a valuable level of professionalism to customers.  Customers like seeing a professionally produced label with their name on a magazine … this is far better than a hand written label.
Magazines putaways are unique to Australian newsagencies.  It is natural, therefore, that newsagents invest time in ensuring that this point of difference is fully embedded withing the business to ensure that the business makes the most of the opportunity.
More than 1,700 newsagents use software from tower Systems to help manage their businesses.  Magazine putaway management is one small part of our industry standard software for newsagents.