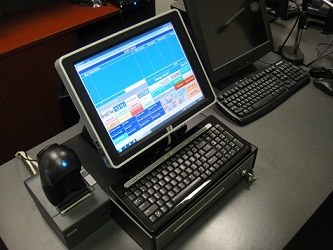 The new touch screen enabled and integrated HP Point of Sale computer which we launched a couple of months ago is proving popular with our customers.  They like its compact footprint, the easy to read screen, the good value customer display monitor, the on site warranty and the overall elegance of the unit.
This device is a good way to simplify the retail sales counter and create a more customer-friendly retail environment.
Our software makes good use of the facilities of this elegant hardware device, bringing to small business retailers the facilities on which national retail networks rely.