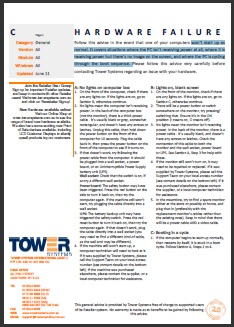 Last week, we published a new advice sheet providing assistance in a situation where a computer won't start up as normal. It covers situations where the PC isn't receiving power at all where it is receiving power but there's no image on the screen and where the PC is cycling through the boot sequence.
While covered in other advice sheets, we wanted to bring comprehensive advice together into one place and make it freely available to all of our customers including those who choose to not pay a support fee.
This new advice sheet, ADVICE SHEET C, is accessible from our website by anyone.
The majority of calls about a computer which will not start up will be resolved by users following the advice presented in this new advice sheet.  This will help our customers help themselves without needing to make a call and help themselves regardless of where they sourced their hardware.
Comparing user documentation is a good way to compare software companies.  In addition to the content, the attention given to layout and accessibility demonstrates a care and concern about customer service and user communication.