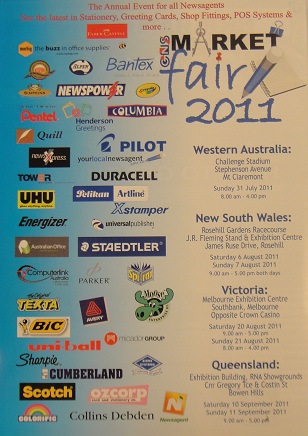 Our industry-leading newsagent software will be on show at the GNS Market Fairs which start this weekend in Perth.
At Challenge Stadium in Mt Claremont we will be showing off the software which is being used in more than 1750 newsagencies around Australia.  More newsagents use our software than all other newsagency software companies combined.
We respect our tremendous market position and the faith invested in us by newsagents by constantly innovating with new software and y reducing the costs for newsagents engaging with us.
Indeed our newsagent community pays less today to engage with Tower Systems than a year ago.  We are able to do this thanks to our market share.
In Western Australia, for example, we introduced a local, Perth based, support call number for our WA customers.  This local support number (with multiple lines), 08 6317 0207, delivers direct access to our National Help Desk for the cost of a local call. Introducing this is a good example of Tower Systems reducing the cost working with us.
Introducing local call support access is another reason newsagents switch to Tower.
Add to this that our support costs are competitive and NOT compulsory and that we do not charge newsagents extra to access XchangeIT you can so see why our software is the most widely used in the newsagency channel.
If you are  Western Australian based newsagent we hope to see you this Sunday at the GNS Market Fair.