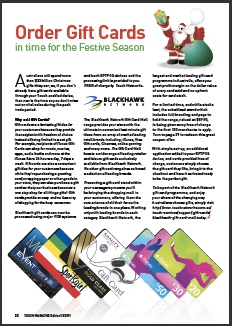 For a limited time, Blackhawk is offering a free merchandised stand valued at $89.95.
Tower customers can sell Blackhawk cards from within their software easily and quickly thanks to our integrated eziPass solution.
We know from customer feedback that the Blackhawk range of gift cards is a valuable addition to retail range, delivering good incremental business and delivering excellent value for the small retail footprint required. Blackhawk is supported through Touch, a Touch account is required to access the products.
To be part of the Blackhawk Network gift card programme, and enjoy your share of the changing way Australians choose gifts, simply visit http://www.touchnetworks.com.au/touch-services/support/gift-cards/
We encourage our retail network to embrace this opportunity.