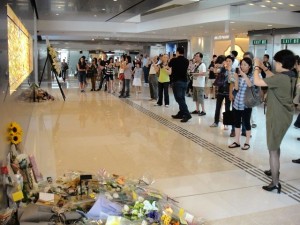 Our senior management team returned yesterday form another retail study tour, looking at how retail businesses operate in a range of countries.  While in Hong Kong they visited the new Apple store which had opened the week before.  While the store itself was extraordinary and illuminating in terms of the retail experience, it was what was happening out front which was fascinating.
On the wall at the front of the Apple store were hundreds and hundreds of notes reflecting on the life of Apple co-founder Steve Jobs.  The notes, flowers and respect of the visitors was an homage to a great man who helped revolutionise how we view and use technology in business and in our daily lives.
We were lucky to have been able to see this and experience the Steve Jobs Apple effect first hand.
We left the Apple store in Hong Kong with inspiration from Jobs' vision and the retail experience he helped create.
We are committed to expanding our horizons and the recent travel by our senior management team looking at retail situations overseas is evidence of that commitment.  It matures us as a company and helps develop our vision for the future of Tower Systems.