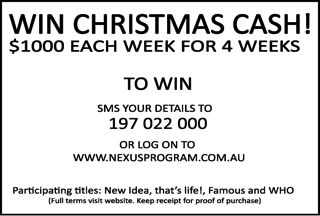 Again this Christmas we are working with suppliers of products to retailers who use our Point of Sale software to facilitate the serving of marking messages on shopper receipts.  By serving these messages at appropriate times, based on what is in the sale, we are helping suppliers deliver a consistent message and retailers to easily and effortlessly connect with campaigns beyond their businesses.
In our latest campaign, we have worked with the marketing team at Pacific Magazines to deliver a marketing message promoting Pacific titles in the stores associated with one newsagency marketing group.  Our receipt message ties in with in-store collateral and other promotional activity supporting this exclusive Cash for Christmas offer.
Delivering advertisements or other marketing messages on receipts is valuable activity for any retail business and an appreciated facility in good Point of Sale software.  It's something Tower Systems has done through its Point of Sale software for many years.  Our first engagement was when we were the exclusive IT partner in an international trial with another magazine publisher and a specialist IT provider in the marketing space.  Since then we have evolved our offer and engaged in many campaigns across multiple retail channels.
Retailers wanting to make the most of the receipt marking tools in our software can access an excellent Advice Sheet on this.