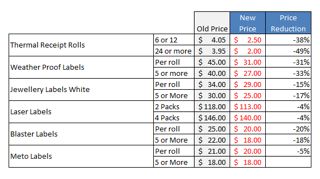 Tower Systems is thrilled to announce the implementation of price reductions of up to 49% in barcode labels and other consumable items which are vital for efficient use of Point of Sale software.
These price reductions are set to save customers of Tower Systems a significant amount of money.
We are in a position to pass on the price reductions following the negotiation of better buy prices from our suppliers.  Our move shares the benefits of our better buying.
We don't mind where our customers purchase consumables.  We sell these and other products as a service.
Labels, receipt rolls, ribbons, computer hardware aas well as our software can be purchased direct through our website on a self serve basis.  Click on the shop tab to access our online store.